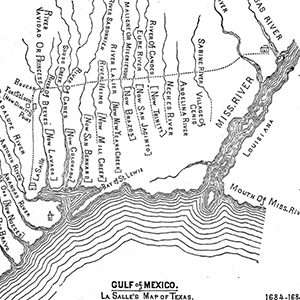 We'd like to hear what you have to say about this lesson. After reviewing it, please take the following short survey to help us improve it and others, now in development.
Tell us what you think
Share
Tell other teachers, parents, and students about us.
Follow
Description
Vocabulary Terms
Catholicism

Spaniards wanted Native populations to follow this religion

colony

a territory ruled by another nation and settled by people of that nation

conquistador

a Spanish soldier-explorer who sought personal riches and power, as well as wealth and glory for Spain, in the conquest of the Americas

expedition

journey made for a special purpose

mission

a religious settlement

navigate

to find a way to pass over or along a body of water

province

a district of a colony or country; similar to a state

settlement

a place where people live

viceroy

an official who rules in the name of the king or queen
Key People
Alonso Álvarez de Piñeda

explored and mapped the Texas coastline, which led to colonization of Texas

Álvar Núñez Cabeza de Vaca

first landed in Florida but left after coming across hostile Indians; sailed along the coast in rafts trying to reach Mexico but landed off the coast of Texas, on Galveston Island; he is among the first Europeans to explore Texas and lived among the Native Americans in Texas and Northern Mexico; after exploring, went to Mexico and told Spanish leaders the story of the cities ofgold

Francisco Coronado

Spanish explorer who traveled north from Mexico through Texas, New Mexico, Arizona, and Oklahoma into Kansas looking for the fabled Seven Cities of Gold

Sieur de LaSalle

explored the lower Mississippi River and claimed what is now Louisiana for France around 1683
Major Events
Fort St. Louis

settlement built by members of the La Salle expedition possibly near Garcitas Creek in Texas
Teacher Tools
Age of Contact Vocabulary

Downloadable and editable versions of the terms that appear on this page.
Updates
The page was updated on 02/17/2023.
Support
Learn about our team, supporters, and how to contribute or give back.