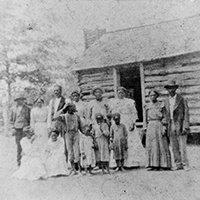 We'd like to hear what you have to say about this lesson. After reviewing it, please take the following short survey to help us improve it and others, now in development.
Tell us what you think
Share
Tell other teachers, parents, and students about us.
Follow
Description
Overview
This lesson will examine the political, economic, and social impacts the period of Reconstruction had on Texas. Students will gain an understanding of the challenges faced by Texans during the period directly leading to the end of Reconstruction and directly following. Students will learn about the shifting political climate in Texas and the development of new economic systems such as sharecropping, tenant farming, and convict labor, all used to rebuild the Texas economy. The lesson will also provide context on the development of systems of resistance and repression such as the Ku Klux Klan, with the goal of limiting African American political participation and civil liberties.
Essential Questions
How did economic practices of Reconstruction impact Texans, including the newly freed African Americans?
In what ways did forced labor continue in Texas following Reconstruction?
How did Texans embrace or resist changes in the state resulting from Reconstruction policies?
Teacher Tools
Downloadable/editable versions of this lesson plan.
Student Activities
This printable hook exercise focuses on impact of Reconstruction on Texas. For more engagement, consider making "analogy bags", by including real-life object represented on the paper for students to select from.

This ready to use slideshow presentation contains essential questions an outline of key events and issues related to the impacts of Reconstruction, and two primary source documents with guided questions to promote discussion among students (see lecture notes within the slides for specific details).

The printable guided notes were specifically designed to be used in conjunction with the presentation. Students will use the graphic organizer to create an outline of the events and issues related to the impact of Reconstruction and interact with the primary source documents.

Two Schools: an Image Analysis Activity

This printable primary source document may be used in conjunction with the first "Think-Pair-Share" activity from the slideshow presentation. Students will analyze two photographs to provide context for the importance of education in Texas, especially for African Americans.

This printable student document should be used in conjunction with the second "Think-Pair-Share" activity or independently as a document analysis.

This printable exit ticket uses the three essential questions above to provide a formative assessment opportunity at the end of the lesson.
Updates
The page was updated on 02/17/2023.
Support
Learn about our team, supporters, and how to contribute or give back.