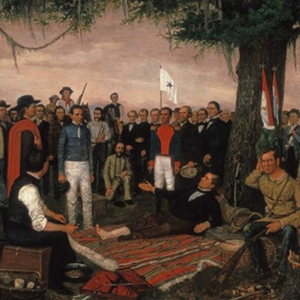 We'd like to hear what you have to say about this lesson. After reviewing it, please take the following short survey to help us improve it and others, now in development.
Tell us what you think
Share
Tell other teachers, parents, and students about us.
Follow
Description
Overview
Students will examine more deeply the importance of San Antonio de Béxar and the Alamo.
Essential Questions
When reading eyewitness accounts, what can we interpret about a person's emotions, actions, and motives?
Teacher Tools
Downloadable/editable versions of this lesson plan.
Student Activities
The Importance of San Antonio de Béxar and the Alamo

This extension lesson examines primary source letters written by William B. Travis, Santa Anna, Jose Francisco Ruiz, and two Mexican soldiers' accounts of the Battle of the Alamo.
Updates
The page was updated on 02/17/2023.
Support
Learn about our team, supporters, and how to contribute or give back.