We'd like to hear what you have to say about this video/media. After reviewing it, please take the following short survey to help us improve it and others, now in development.
Tell us what you think
Share
Tell other teachers, parents, and students about us.
Follow
About
Dr. Karen L. Kossie-Chernyshev shares stories about the remarkable life and legacy of the legendary Barbara Jordan. Hers was a life of many firsts – the first African American elected (1966) to the Texas House of Representatives since 1883, the first African American from the South elected to U.S. Congress in 1972, and the first woman and African American to speak at the Democratic National Convention in 1976.
Referenced Lessons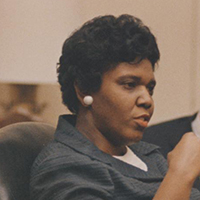 Barbara C. Jordan is known as one of the most influential women in Texas and U.S. history. She was a political trailblazer who paved the way for many people, including women and people of color. Barbara Jordan possessed skills as a speaker, advocate, and teacher.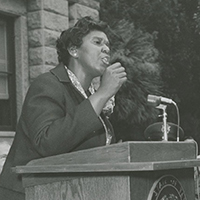 Barbara Jordan was a known advocate for women's rights during her lifetime. For this extension lesson, students will analyze the text of Jordan's famous "Jack and Jill" speech in which she addresses the lack of equality between men and women during the 1970s. Students will also create a map showing places that she impacted during her career.
Updates
The page was updated on 02/17/2023.
Support
Learn about our team, supporters, and how to contribute or give back.